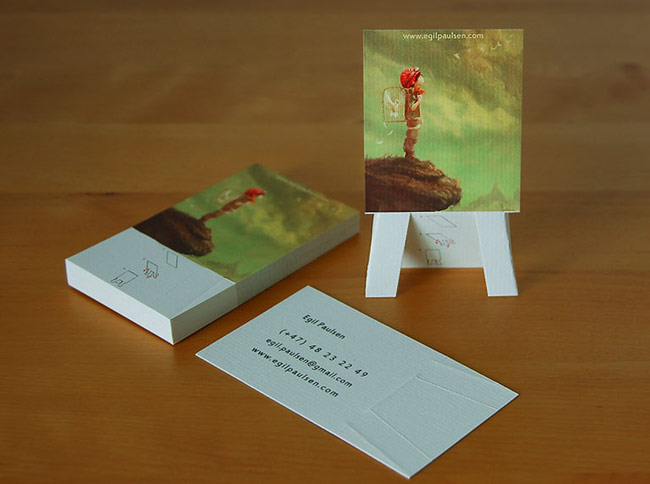 As a visual artist, I'm always trying to find creative new ways to display my work and get exposure. Recently when searching for "creative and awesome business card designs" I stumbled across the pop-out, stand-up 3D folding business card of Egil Paulsen. These things are so simple, so beautiful, so stunning, that Paulsen's painting – due not only to the painting itself but also because of the amazing business card idea – has been featured on hundreds of websites. Pretty f-ing awesome. I wanted to make some too so I contacted Paulsen and found out that he's preparing to offer the service to other artists – keep an eye out for it, there's an easel art card facebook group to join.
Since I'm living in Taiwan, I also contacted some local paper printers to find out about die-cast business card pricing. I even found someone to make easel art cards.
However – I can't replicate Paulsen's success with a duplicate, so I'm working on something much more ambitious, which will be a "3D Gallery" of 10 of my paintings in miniture, as pop-up silhouettes. I'll probably be using very bold colors, as part of rebranding my image from just painter to also graphic designer. Here's a sample of what they will look like:
When they're finished, my business cards will have turned into art-collectible in themselves, that are fun to play with and easy to put on display!
The Morale of this Story: If you're already an established artist with galleries selling for you, you don't need kickass business cards. But if you aren't – having an amazing, creative business card itself is a quick way to gain international exposure.
I'll be posting some more stuff soon on creative art promotion ideas, so stay tuned. If you're looking for business card design, die cast printing, pop up or easel art cards, or if you're just trying to think up a brilliantly creative way to market your art, send me an email! (Living in Taiwan I can get a great deal on printing!)
If you want your own easel business cards, you can order them here: http://easelbusinesscards.com/